Karting FAQs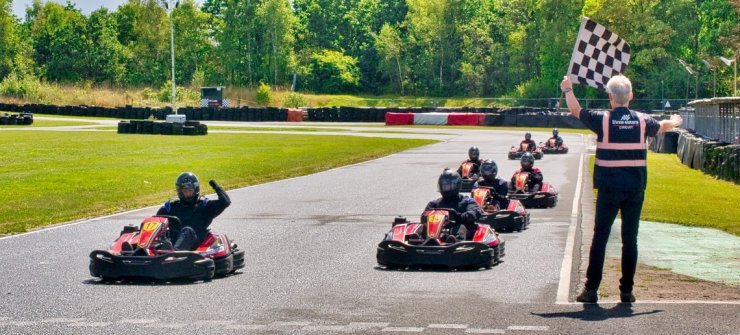 How do I book a karting session or a place in an open race?
Adult karting sessions and places in an open kart race (apart from the 3S60 Ironman) can be booked from this website or by contacting our sales team. Please note that you must bring the credit card used to pay for the session or race-place with you, as well as proof of ID.
How do I book an exclusive group event?
Exclusive group events can be booked by calling our friendly sales team on 01942 719030.
What is the best exclusive group option?
This depends entirely upon your experience and budget. You will find full details of the different events on the Karting Groups and Parties page of our website.
How old do I have to be?
Drivers must be at least 16 years of age. If a driver is under the age of 18, they must bring a parent or guardian with them on the day to counter-sign the required indemnity form.
Do I need a driving licence?
You do not need a driving licence and our karts do not have gears - just an accelerator pedal (coloured green) and a brake pedal (coloured red).
Are there any height and weight restrictions?
The minimum height for use of our adult karts is 5' (152.4cm) and the maximum height is 6'8" (203.2cm). Our RT10 karts have adjustable pedals and seats within certain limitations. Most people within the 5' to 6'8" height range will fit in our karts, although comfort levels might be reduced at the higher end of the spectrum. There are no weight limits as such, but a driver's body-shape may cause problems if their hip or waist size is too big for the seat. If you are in any doubt about comfort levels, we are more than happy to arrange for you to try a kart for size prior to your event/activity/session.
What safety equipment is supplied?
We provide robust race suits, gloves and helmets. For hygiene reasons, you will either need to bring a helmet-liner or balaclava with you, or you can purchase one at the circuit for £3.
What should I wear?
You should wear comfortable, casual clothes. Three Sisters is an outdoor venue so you would be wise to bring a spare pair of clothes with you in case it is particularly hot or wet. You should also wear sensible, thin-soled, flat-heeled footwear such as plimsoles or trainers. Sandals or open-toed shoes are not acceptable.
Can I use my own safety equipment?
Yes, you can use your own safety equipment, as long as it is in good condition and you have a full-face helmet that meets the required standards for karting (full-face motorbike helmets fit for road use are fine). Dark visors are not permitted when the circuit floodlights are in use. Please check with the circuit's Race Director if in doubt.
Do you have changing rooms?
Yes, we have customer changing rooms on site.
Can I bring spectators with me?
Yes, you can bring spectators with you. No one under the age of 16 is allowed in the pit lane but there are plenty of other viewing areas at the circuit.
Do you sell gift vouchers?
Yes, we sell gift vouchers with a 12-month expiry/use date from the date of purchase.
How long does a lap take?
This will obviously depend upon the weather conditions and the experience of the driver, but a rough guide is about a minute per lap.
What tyres do you use?
We use slick tyres at all times, regardless of weather conditions.
What happens if it rains or if extreme weather conditions occur?
Karting events take place in wet weather regardless, however, in the case of extreme weather such as heavy rain, snow or ice etc., the Race Director may either suspend or cancel the event/activity/session. In this case you will be able to reschedule the event/activity/session within the next 6 months.
What happens if I arrive late?
It is very important that you arrive no later than the notified/published arrival time for your event/activity/session as a specific time-slot for the circuit will have been booked. If you arrive late we will do our best to see if we can move you to another session, however this is not always possible and if this is the case then unfortunately you will not be allowed on the circuit.
Can I change the time of my booking, or move it to another date?
Unfortunately once a booking is made it is non-transferable.
How safe is karting?
Three Sisters is licenced by Motorsport UK for kart racing and is regularly inspected accordingly. The circuit is also checked on a daily basis to make sure that it complies with our own strict safety standards. It is important that you use all the safety equipment supplied, and that you pay attention to the safety briefing and any further instructions given by staff. Be aware that all motorsport can be dangerous and that unavoidable accidents can happen, even in the best-regulated circumstances.