Motorsport in Greater Manchester
Three Sisters Circuit is only 15 miles west of central Manchester
---
Go Karting Near Manchester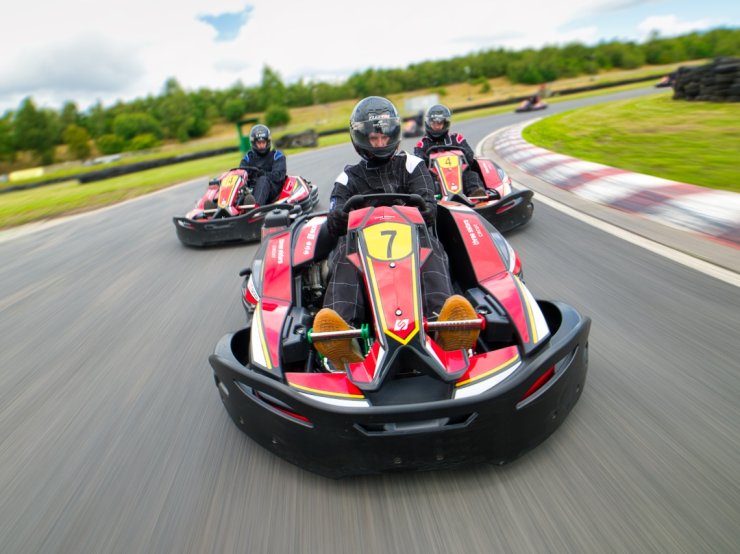 Three Sisters Circuit is a 1.5km, outdoor, MotorsportUK licensed race circuit located in Wigan, halfway between Manchester and Liverpool, and only 17 miles southwards down the M6 from Preston. It is about 25 minutes by car or motorbike from the M60 at Eccles, or 30 minutes from Salford, Stretford, Salford and Old Trafford.
The circuit offers 20 or 30-minute adult outdoor karting sessions on selected dates throughout the year, including discounted karting sessions on most Monday evenings (click here for forthcoming dates). The circuit offers a breath of fresh air (pun intended) for those more used to the limitations of indoor karting in the Manchester area. Note that all adult karting sessions must be pre-booked.
For karting enthusiasts living in and around Manchester, Three Sisters Circuit offers various sprint and endurance championships throughout the year for teams and/or individuals. These are known as 'open' races as they are open to members of the public, providing the driver's experience matches the particular series entry requirements. One-off race entries from Greater Manchester residents are also welcome - you don't have to enter the entire championship.
Parents of children keen on motorsport have a choice of even more karting activities near Manchester to choose from, whether from Trafford, Salford, Bury or Bolton. Even Stockport is only 20 miles away! The circuit offers Arrive 'n' Drive karting for children during most half-term holidays. Junior, Cadet and Bambino kart racing schools are run for ages 6 years and upwards, and Junior and Cadet kart clubs have been established for kids wanting to experience racing from an early age. Even early driving experiences are available for Manchester children aged 10 to 16 who can't wait to learn to drive a car.
Drifting Near Manchester
Drift enthusiasts from the Manchester area will find that Three Sisters is the ideal venue to participate in drifting as a driver, or to watch drifting as a spectator. The renowned drift circuit, used by the likes of Drift League GB for competition events, is only 20 miles from Rochdale, Oldham and Tameside, and even closer to those living west of Middleton. So there is no excuse for any drift hounds not to visit the circuit when it hosts one of its very popular drifting events.

---
Car and Bike Track Days Near Manchester
For residents of the North West who want to find out what their road-legal car or motorbike handles like on a proper motorsport circuit near Manchester, Three Sisters is the place to find out. This renowned outdoor circuit offers car track days and bike track days for drivers and riders ranging in skill-level from novice, right up to licensed ACU and Supermoto bikers, and drivers with a Motorsport UK competition licence (Race, Hill Climb, Sprint or Rally). The circuit is often hired for testing by race teams and race car owners based in the Manchester area, but even total circuit novices are welcome to participate in Three Sisters Car Track Attack and Bike Attack events using their road-legal machines.