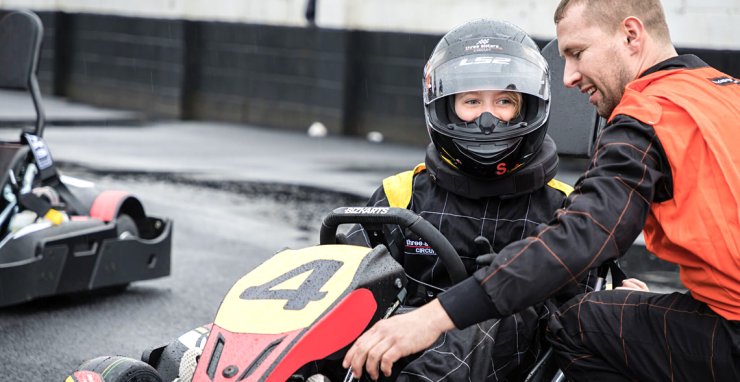 Sessions will resume in the new year
- watch this space for dates and times.
ARKS Test
Three Sisters Circuit is a member of the Association of Racing Kart Schools (ARKS) and is recognised by the Motor Sports Association (MSA). Private one-to-one tuition with a professional ARKS instructor costs £99 and is run on either the Club or Valley circuits.
The ARKS test costs £98 including VAT, if applicable, and includes both written and practical tests. If you should fail one part of the ARKS test, the written test can be re-taken for £50 and the driving test for £60. The hire fee for a suitable Three Sisters kart is £40.
There are some exemptions for drivers who have had a National A licence before, or who have enough signatures from Tyro/Clubman events, and in some cases these people only need to sit the written test. Check with the MSA or ARKS to see if that might affect you and whether you also need to purchase a Start Karting Pack which costs £60 from www.msauk.org (includes the cost of the first licence).
Bill Sisley Junior Kart Club
For many years, young kart drivers were only able to compete in races by purchasing their own kart, which was financially out of reach for many families. However, in the mid 90's, Bill Sisley introduced the Sisley Junior Kart Club in the south east of England. For the first time, this allowed young drivers to compete on a monthly basis at a reasonable cost by way of the club supplying identical equipment.
Starting from nothing, the Sisley Junior Kart Club rose to regular starting grids of 100 per month, and thousands of young drivers have become better road drivers as they leave childhood behind and take to the wheel on public roads. Some particularly talented young karters have been spotted by owner/driver race teams and are now successful car racing drivers. One such ex-Sisley Junior Kart Club racer is Jack Aitken, now a junior Formula 1 Renault team member and currently second in the GP3 Championship (as at Oct 17).
A prerequisite of club membership is novice training at the Bill Sisley Junior Kart School, after which - if the instructor is happy - a driver can take part in club events as a Junior Rookie. Junior Rookie races are designed for those in their first year of racing and ensures they compete alongside drivers of similar experience. Individual pre-bookable races are offered, with awards given at each event.
After a season's regular racing as a rookie, young drivers may then take part in regular Junior Club races, or they can choose to compete in the 8-round summer and/or 4-round winter championships with individual round and series awards.
Prices:
£59 per person per event.
Race Format
Safety briefing
Practice
Three heats per driver
Final race.
Key Information

For ages 8-15 years
Biz 160cc Honda powered single-engined karts
All equipment supplied
Entries must be booked and paid for in advance
Minimum height 4'2".
Please note that if a driver intends to wear a race helmet provided by the circuit, they are also required to wear a balaclava. Please either bring one with you, or you can purchase one at reception for £2.50.